Eternal Grace is a Fantasy RPG on PC platform developed by: Enthrean Guardian and formerly published by Awi IT Pro and Sumber Alam. Music composition and some of Sound Effects created by Jasson Prestiliano (JP Soundworks) and Clea Leshlick. You can download the game for free from Indie DB.
The Story
Eternal Grace is a classical offline RPG game which puts its power in the storyline, interesting characters and their interactions, challenging tactical action battles, and addictive card mini game. The story goes around Razh, a mercenary, and Millia, a special agent, on their mission to prevent the world Enthrea from a collapse caused by a previous war. Razh, in the need of money, accepted Millia's plead to help her achieve more people to join the movement to save Enthrea. Along their journey they meet a lot of interesting characters, interact with them, and solve puzzles.
Combined with their complex yet touching relationship, added with various external factors while trying to gather more people to join their mission, the storyline emerges to a situation where everyone would say: I want to know what happened next.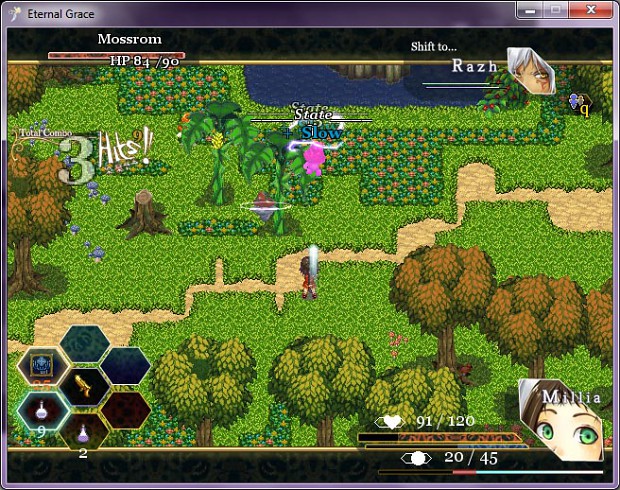 This game will bring you into the beginning of whole Eternal Grace story, and where the story is started. Unfortunately the sequel of this game is postponed. Play the game, solve the puzzles, conquer the hexa battles, collaborate with many interesting characters from the Enthrean world to finish your quest to save the world!
System Requirements
The RPG is using RPG Maker XP as the game engine. Minimum System Requirements to play this game:
* Windows XP/Vista/Seven 32 Bit (Uncompatible in 64 Bit)
* Pentium 4 1.8 GHz or Athlon XP 1500+ processor or higher
* 512 MB RAM or Higher
* VGA 128 MB or Higher (you can use onboard graphics card)
* 65 MB free hard disk space
* DirectX 8.1 or Higher
Soundtrack sample of Eternal Grace (composed by Jasson Prestiliano and Clea Leshlick):
Trailer Video of Eternal Grace Episode 1: